POP CULTURE IS OUR CULTURE
WE ARE ASKING YOU THE TOUGHEST QUESTION
DC or MARVEL?
DC Comics
Marvel Studios
BATMAN
Batman is a superhero appearing in American comic books published by DC Comics. The character was created by artist Bob Kane and writer Bill Finger, and debuted in the 27th issue of the comic book Detective Comics on March 30, 1939.
SUPERMAN
Clark Joseph Kent, best known by his superhero persona Superman, is a superhero in the DC Extended Universe series of films, based on the DC Comics character of the same name created by Jerry Siegel and Joe Shuster.
CATWOMEN
Catwoman is a fictional character created by Bill Finger and Bob Kane who appears in American comic books published by DC Comics, commonly in association with the superhero Batman.
Testimonials
Great service
Well I used to ship myself directly from outside the country but shipping and handling was mess. I found FATCAT via Facebook in 2019 and then it was much easier to buy stuff directly in India. I used to buy from 8 different sellers but now FATCAT is my one stop for collectibles. Highly recommend for collectors who doesn't want to deal with any shipping and handling issues.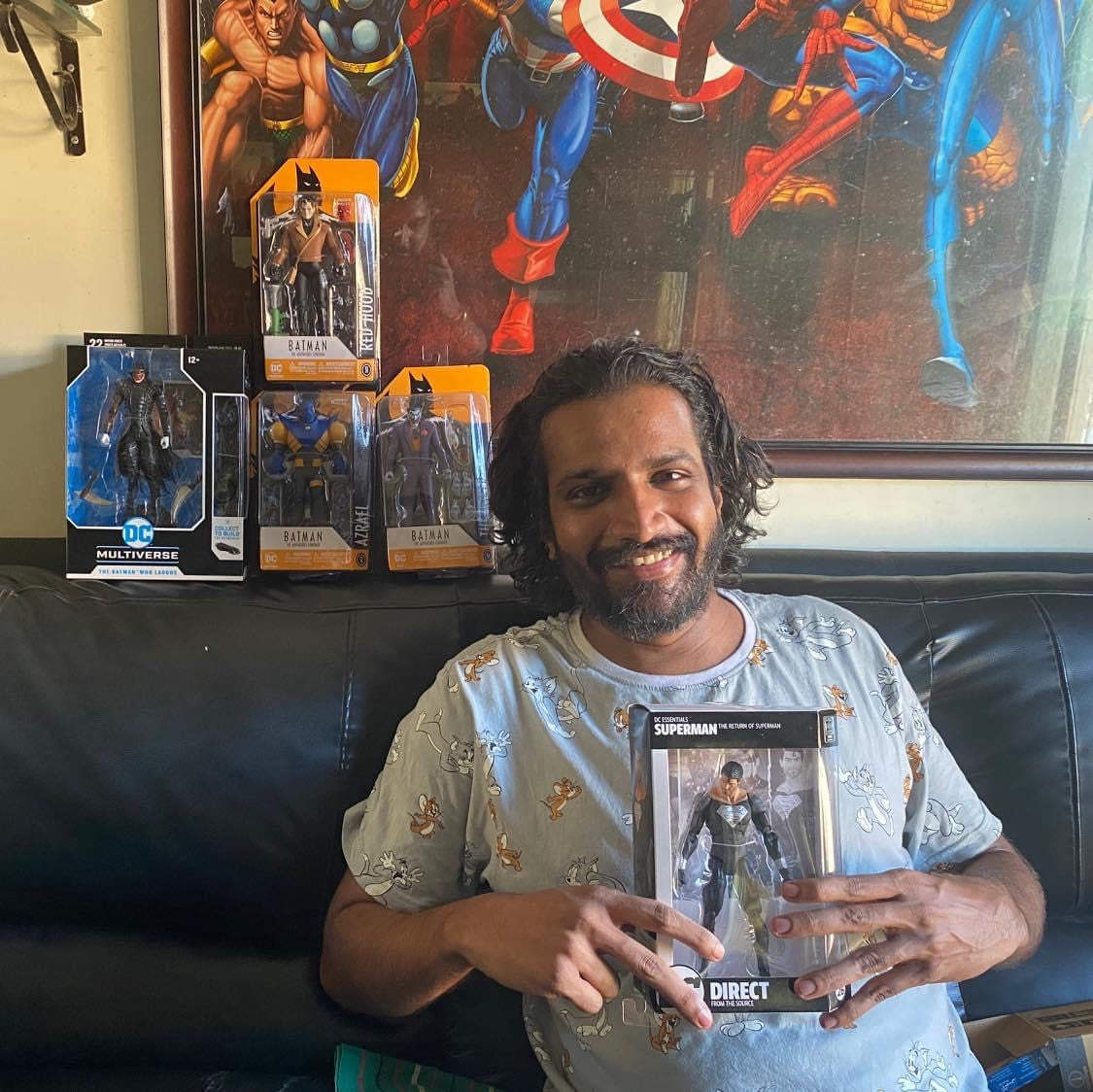 One stop shop for all collectibles
Best place to get your action figures, Movie collectibles and statues. Has loads of new collection and delivers super fast. One stop shop for all collectibles and total hassle free buying. Have been a happy customer since a very long time.
Highly Recommended
One of the most customer friendly Toy/Statue importer in India. I was able to get some exclusive toys and statues from here. My kids love the Batman, Heman (Master of the Universe Line) Toys. Highly recommended, can take some time for preorders but its mostly due to import situation in India. Some pics of my kids enjoying the toys brought from FatCat Collectibles.
Great place to find all premium collectibles
I have been buying action figures and statues from Fatcat collectibles now for donkey years. I have always received them in great condition. Dhaval keeps dialogue on with you even though shipments can be/are delayed due to things out of his hands. Happy to see he is extending the lines of premium collectibles be it iron studios to hot toys to queen studios.
I hope to continue my association with him and Fatcat collectibles, god willing. Would recommend them to every collector with a caveat that they should be patient and also always trust in Dhaval!
Keep doing well my friend.
Vast variety & great experience
Have buying from Fatcat for sometime now and it has been a pleasure and fun experience. Great prices, speedy delivery and a vast range of collectibles to select from. Another big plus point is their packaging, its excellent. Have always received my stuff in mint condition. This has become my one stop shop for getting my collectibles.
Testimonial
FatCat Collectibles is one of the first places I started purchasing figures from and it's been a good experience till date. You can surely get the collectibles that you wouldn't usually find anywhere else in India.
Do view their collection and keep collecting!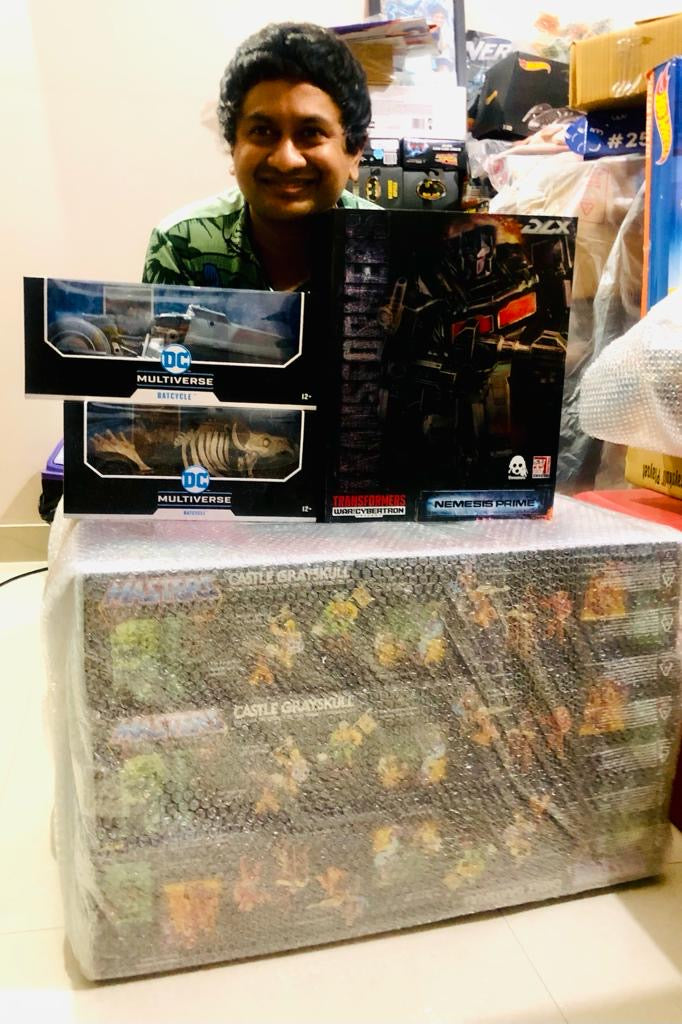 Great place for collectors
Where do I begin…..A couple of years ago when I got serious about this hobby, I had very minimum sources to procure quality figures. Either the prices were too high or hadn't found genuine sellers. Then I came across FATCAT on one of the Facebook groups. Things were never the same post my first conversation with Dhaval; in a good way. He came across trust worthy, kept to his words on delivering collectibles, offered competitive prices, guided and helped me build on my collections etc. Though there were some tough situation he had to deal with, he always kept to his words. Thank you FATCAT, thank you Dhaval (Big Brother) for keeping the child in me alive and helping me bring my dream to life.
Highly recommended, For any collectibles
The place to go if you want the best collectibles delivered to your doorstep, hassle free! I blame fatcat collectibles for keeping my wallet empty throughout the last 2 years. 😁
Highly recommended, for any collectibles- be it action figures or statues of any scale!
I wish there was 10 star rating becoz they are best in this business. Quick responses to all the collectibles queries, safest packaging ever and pre-order for almost all favourite superheroes collectibles brands.
Kudos to Dhaval & team Fatcat collectibles.
I've been getting collectibles from Fatcat Collectibles for quite some time now and I must say every experience of mine has been an absolute delight. They are simply the best in India. I could have never imagined that we can get such amazing stuff in India and that too delivered at our doorsteps. Their collection is absolutely amazing and the service is even better. The personal touch that one gets while dealing with them and the fact that these guys are collectors first and sellers later make it that much more special. My collection has grown by leaps and bounds all thanks to Fatcat Collectibles. Wishing you guys all the best and hoping to have a long and fruitful association with you. Happy Collecting!
My second purchase through FATCAT Collectibles and I must say the store provided me with excellent service right from the product ordering stage until its delivery.
I was thoroughly impressed by the fact that the owners personally called me and inquired whether I was satisfied with their service and whether the product was received in good condition. This clearly shows their level of commitment to the customers.

The Owners are friendly and queries are responded in a timely manner.
The collection they offer is of mint quality and genuine.
Products are carefully packed and ample care is taken that the product and packaging is delivered undamaged. Deliveries always reach on time.
I will definitely recommend FATCAT Collectibles to my friends and colleagues.
Looking forward to many more purchases in the future.
My rating A+ Highly Recommended.
Taking the time to edit this review because it's been almost a year now with doing business with them and I must say they are best! Have not got a chance to visit the store but they always deliver online. Their customer care support team is great headed by a very passionate and involved Leader Dhaval. Got for it , no regrets!
One of the very few places in India, where one can get good quality action figures. They seriously have wide range of stocks ranging from SH figuarts, Mafex, Mezco, Revoltech AY, Sentinel, Three zero and much more. Their stocks get updated on a monthly basis. The website needs to be be updated though as images take long time to load and I know Fatcat will rectify that too in due time. If you are ordering online, they provide the best packaging so that your order is not damaged in anyway. Last but not the least, Ameya is always there to answer your queries and help you in every way possible. Highly recommended.
I am very new to this fantastic world of collectibles, and when I was searching for a shop where it will meet my wishes...then someone recommended me for Fatcat. I have then gone through its website and mesmerized with its collection of items. Now I am a very satisfied member of Fatcat family with a lot of action figures that I have got through it.
I am from Kolkata, and the shop location is Pune, but always delivery is smooth and packaging is great. I have got around 10 to 12 shipments from them and none have made any problem. The items are new and service quality is great, always responded to any querry at any time. I have seen other shops also but the experience I have got here is second to none. Always recommend for anyone who wish to enter this dreamland. Happy collecting...!
Fatcat collectibles has been a absolute delight, with great pricing and exceptional customer service.
Thank you Dhaval for this amazing piece.
They hold a nice BIG collection of collectibles and I rank them as my no 1 for the great collection and a variety of action figures. There has never been a late delivery or a faulty product till date.

Love your collection guys and more shall be ordered.
What an experience it is!!! Highly recommended store to buy genuine action figures, statues. Collecting action figures is a passion and I am delighted to see the way FATCAT team (Dhaval and his team) is serving the collector is just remarkable. This was my first buy from FATCAT but the way the transaction was handled was very good. In all aspects like answering queries on the phone, availability of products, packing, shipping they were so transparent and professional that you could not complain about anything. 100 % dependable and trustworthy portal. Thank you FATCAT team. Will be shopping more for sure.
One of the only places I feel totally in safe hands when buying statues and action figures. Fatcat is top notch. The customer service, the collection they have, the industry links they possess, prices... IMPECCABLE

YOU WONT FIND ANYTHING BETTER IN INDIA.

and Dhaval is cherry on the top. His relationship with Collectors is not of seller but vis a vis collector only. You cannot go wrong with Fatcat Collectibles.
FatCat Collectibles is a brilliant initiative undertaken for both Toy Collectors and kids as the market for toys and collectibles in India has drastically changed post-COVID and in this situation, Dhaval Chikane Patil has made it his motto to not only ensure continued availability of these gems in India but also provide an amazing customer experience where no matter what your concern is, he will even personally look into your issues along with unmatched support from his team...
Keep up the good work, team😎👍👍👍
Though I have very good experience of buying action figures and collectibles from Fatcat Collectibles online from their site, today's day was different and special as I've personally visited their shop at Pune. My first and lifetime experience to visit place like this. What a collection! The thing is, checking collectibles on website and see them physically is great and different experience. Dhaval himself is a great guy, very humble and down to earth..
Every collector must visit this place…
One stop shop and the best place for all collectibles. A hassle free purchase experience everytime. The packaging is amazing and they ensure that the package reach safely to you.
Overall a happy experience and best wishes to the Team.
This was my first purchase from FatCat and it was a pleasant experience. As a seller, Dhaval is patient, considerate, listens to asks, and promptly answers all the queries and concerns. The Sideshow Scarecrow Premium Format reached safe and sound, on time, and with good packaging. Will definitely recommend FatCat to anyone who's into collecting pop-culture statues and figures in India.
Been a regular customer of Fatcat and they never disappoint. Excellent packaging and customer service. Best place to buy your collectibles. Recently brought this Neca Diorama from Fatcat, they are the only one who are bringing such unique and rare products available in the international market at the best price possible.
Fatcat collectibles is the best collectibles provider.
They have always been the first one to bring the rare collectibles.

I bought Alex Ross Batman statue which was suppose to be the out of production due to pandemic.
Every shop had given up except for Fatcatcollectibles. They got the masterpiece and now it's safe in my display showroom. :D

The package, customer service are excellent.
One can blindly trust on them.

Thanks a million Fatcatcollectibles 10/10.

Look forward to buy more products.
A fantastic place to find the things of your dreams. FATCAT Collectibles is the PLACE to go to satisfy your craving for collecting.
The most dependable and reliable seller when it comes to all stuff collectibles. Mcfarlane, hasbro, super7, storm collectibles, funkos, iron studios... you name it, they have it. Prompt shipment in sturdy collector grade packaging ensures we get our products in the most pristine mint condition possible. Highly recommended to every collector looking for a one stop shop. 👍
Let's see where to start. Have an amazing experience every time with whatever I buy. The collectibles arrive safely and securely. Most of the time I'm able to get sold out pieces for a decent price. Communication is excellent and dhaval even if he can't respond he will make sure he contacts you back. The inclusion of flex pay for expensive statues is a great boon... Whatever I couldn't collect few years back is a piece of cake cause they offer amazing payment packages. Added some pics of the collectibles i was able to get thanks to the whole team of fatcat.
A collectible store with endless treasures ranging from the latest retail action figures to hard to find premium action figures, from budget PVC to statues to premium polystone/silicon statues and busts.A safe haven for collectors to order without any hassle and worries.One of their USP is that the items come home mint with the best possible packaging.
Amazing collectibles @ fatcat. It is a place where an 80s 90s kids and adults who are passionate about action figures, statues of your favorite superheroes, villains, once in a lifetime busts and sculpts from amazing brands like Marvel Legends, Iron Studios, threezero .. Its a wonderland.
The packing and delivery of the products are taken with care. here is an recent addition to my collection taken by me. I m dabble in toy photography. ;)
FAQ
We are available Monday to Friday 11 am - 8 pm. Feel free to contact us with any type of inquiry
and will get back to you as soon as possible
How long will it take to get my orders?

It depends on where you are. Orders processed here will take 5-7 business days to arrive. Overseas deliveries can take anywhere from 7-16 days. Delivery details will be provided in your confirmation email.
How much does shipping cost?

We ship across the country (India) and shipping is FREE to all locations. See the full shipping policy.
As of now, We are delivering only in India.
Can you help with my discount code?

Some codes are not compatible with the buy 2 get 1 free offer. If you have any trouble with a discount let us know and we will help.
You can contact us through our contact page! We will be happy to assist you.
We are available Monday to Friday 11 am - 8 pm. Feel free to contact us with any type of inquiry
and will get back to you as soon as possible